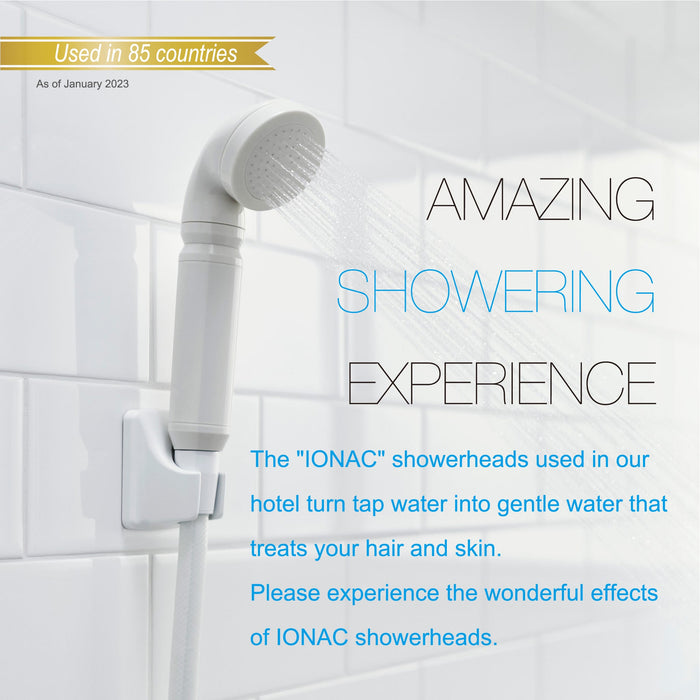 IONAC Shower head [main unit]
Original price
¥15,180
-
Original price
¥15,180
JPY 15,180 yen (tax included)
[This product is the main unit of shower head.]
Click here for a replacement filter >
IONAC is a shower head with a built-in high-performance filter that uses special filtration material to "soften" and "detoxify chlorine" tap water.
IONAC turns tap water into water that is gentle to both skin and hair, supporting skin and hair care during daily shower time.

It is also well received by people living overseas who suffer from high hardness of water, and is used in 85 countries around the world (as of January 2023).
The cause of such worries and troubles may be "water".
When I shower abroad, both my hair and skin are in bad shape.
Tap water does not suit my skin, or my hair is stiff or my skin is rusty.
I worry about itching, body odor, and hair loss.
I have tried changing lotion, shampoo, body soap, etc., but nothing works.
Soap does not lather and my hair and skin feel sticky after rinsing.
The IONAC shower head softens tap water and transforms it into water with good foaming that prevents soap scum from forming, leading to smooth skin and smooth hair. Since soap scum does not remain on the scalp and skin, it keeps the skin clean and prevents dandruff and hair loss.
In addition, it removes the irritation of chlorine contained in tap water and moisturizes the skin, and zinc ions and chlorine ions generated in the filter prevent itching, body odor, and aging odor.
"No matter what I tried, I couldn't feel the effect." "My hair and skin texture changed while living abroad."
In such a case, how about changing the shower head once? Let your skin and hair experience the effects of gentle, soft water.
[Set Contents] IONAC body: 1 (head + filter) / O-ring: 1 (attached to the connection between head and filter) / Flat packing for filter: 1 (attached to the threaded part) / Adapter: 3 types x 1 each / Flat packing for adapter: 1 / Instruction manual: 1

Caution: Water pressure will decrease slightly when IONAC is installed. In rare cases, the Ionac may not be used in homes with extremely low water pressure.